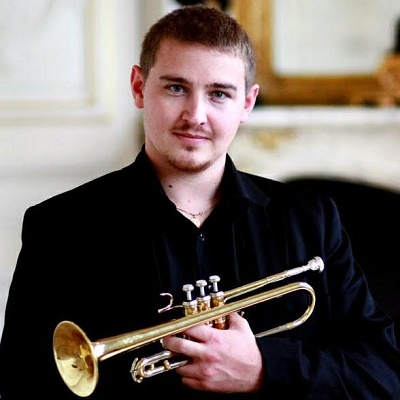 Clément Foissel starts the trumpet in the small town of Ancinnes between Normandy and Loire Valley.
After making his debut at the ENM of Alençon, he entered simultaneously to the Conservatory and the University of Tours, where he learn the instrument and chamber music as well as a Bachelor and a master of musicology award.
He integrates in 2010 the conservatory of paris where he obtained in June 2013 and June 2015 a Bachelor and a master of trumpet in the class of Antoine Curé.
At the same time, it carries out an activity of teacher in the Tourangelle region as well as in Normandy and performs regularly with the Brassband Exobrass (Tours) and Brassage Brassband (Paris).
He entered in 2009 as a trumpeter in the Signals corps Music from Versailles (Military orchestra) then in 2015 for the principal music of the army.
He is regularly called as an additional musician in various parisian orchestras (Orchestre Philharmonique de Radio France, Orchestre de Paris, Orchestre Pas de Loup…)
In September 2015, he resumed classes in trumpet of the conservatories of le Vésinet and Compiègne as trumpet teacher.
Clément Foissel focuses his teaching on the interaction of body, mind and Relaxation allowing to play the trumpet in an easy and relaxed way.