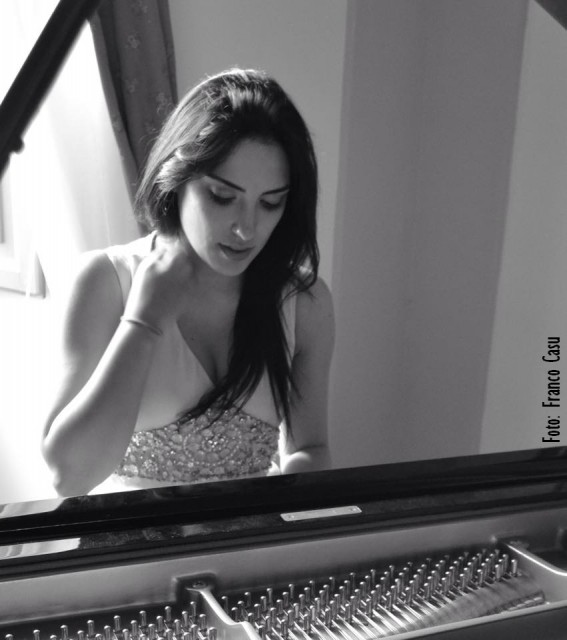 Paola Meloni, Diplômes Cagliari, Schola Cantorum. Concertiste, Professeur de Piano au CRC de Dourdan
Born in Cagliari (Italy) in 1986, Paola Meloni started very early to show a fervent musical talent that led her to undertake the study of the Piano at the Conservatory of Music in her city in the class of Professor Paola Sanna. At the same time, she was chosen for some solo roles in some of the operas staged at the Teatro Lirico in Cagliari, including Strauss's Die ägyptische Helena, staged in that edition for the first time in Italy, collaborating with great artists as Joseph Sabattini and under the direction of great conductors, including Gérard Korsten and Rafael Frühbeck de Burgos.
After obtaining her high school degree with honors, she continued and deepened her piano studies obtaining brilliantly in 2009 the Diploma at the Conservatory of Music of Cagliari.
Simultaneously, she started to follow several Piano Master Classes across Europe (as the Liceu Conservatory in Barcelona, the Cagliari International Academy of Music, the Hochschule Franz Liszt in Weimar, the Akademia Muziczna w Krakowie, the Academy of Music in Vilnius) held by renomated pianists as Gerlinde Otto, Claudio Martinez, Ludmila Berlinskaia, Rolf Dieter Arens, Maurizio Moretti, Stanislav Pochekin, Benedetto Lupo, Yukio Miyazaki, Jurgis Karnavicius, Jacques Rouvier, Gabriel Tacchino, Peter Waters.
In 2012, she obtained the Master Degree in Piano (Solo career) with honors at the Conservatory of Music of Cagliari under the guide of Professor Maurizio Moretti.
In 2014, she obtained the Diplome Cycle Superior at the Schola Cantorum of Paris. Paola Meloni has been honored in several national and international competitions: in2011, she won the first prize at the International Competition " S. Rachmaninoff " (Città di San Sperate).
Her intense concert activity brought her to keep solo and chamber recitals, as well as soloist and orchestra concerts throughout Italy and Europe for many music associations, exhibitions and festivals of piano and chamber music, including the Associazione Mozart Italia, the Siotto Foundation, the Sonus de Atongiu Festival, the Piano four hands Festival, the Inter-Artes Association, the Roana Art and Music Association, the Con…certando Piano Festival, the San Sperate Piano Festival, the Liceu Conservatory in Barcelona, the Monumenti Aperti event, the Teatro Massimo of Cagliari, the International Music Festival of Ponti Sul Mincio, the Florianska Concert Hall of Krakow, the Claudio Arrau Piano Festival, the Academy Concert Hall of Vilnius, the Liszt Piano Festival, the Debussy et la Musique Francais Festival, the Auditorium of the Conservatory of Cagliari, the Solidando Association, the Ente Musicale of Nuoro, Euterpe Musical Initiatives, Studi Aperti Cagliari, the Ente Concerti Marilisa De Carolis of Sassari, the Ente Concerti of Oristano, the Intermezzo Association, the Teatro Eliseo of Nuoro, the Salle César Franck of Paris, Piano City of Milan, the Heure Musical au Marais and many others.
She also recently made her solo debut at the prestigious Kammermusiksaal im Steingraeber Haus in Baireuth for the famous Piano Time concert season.