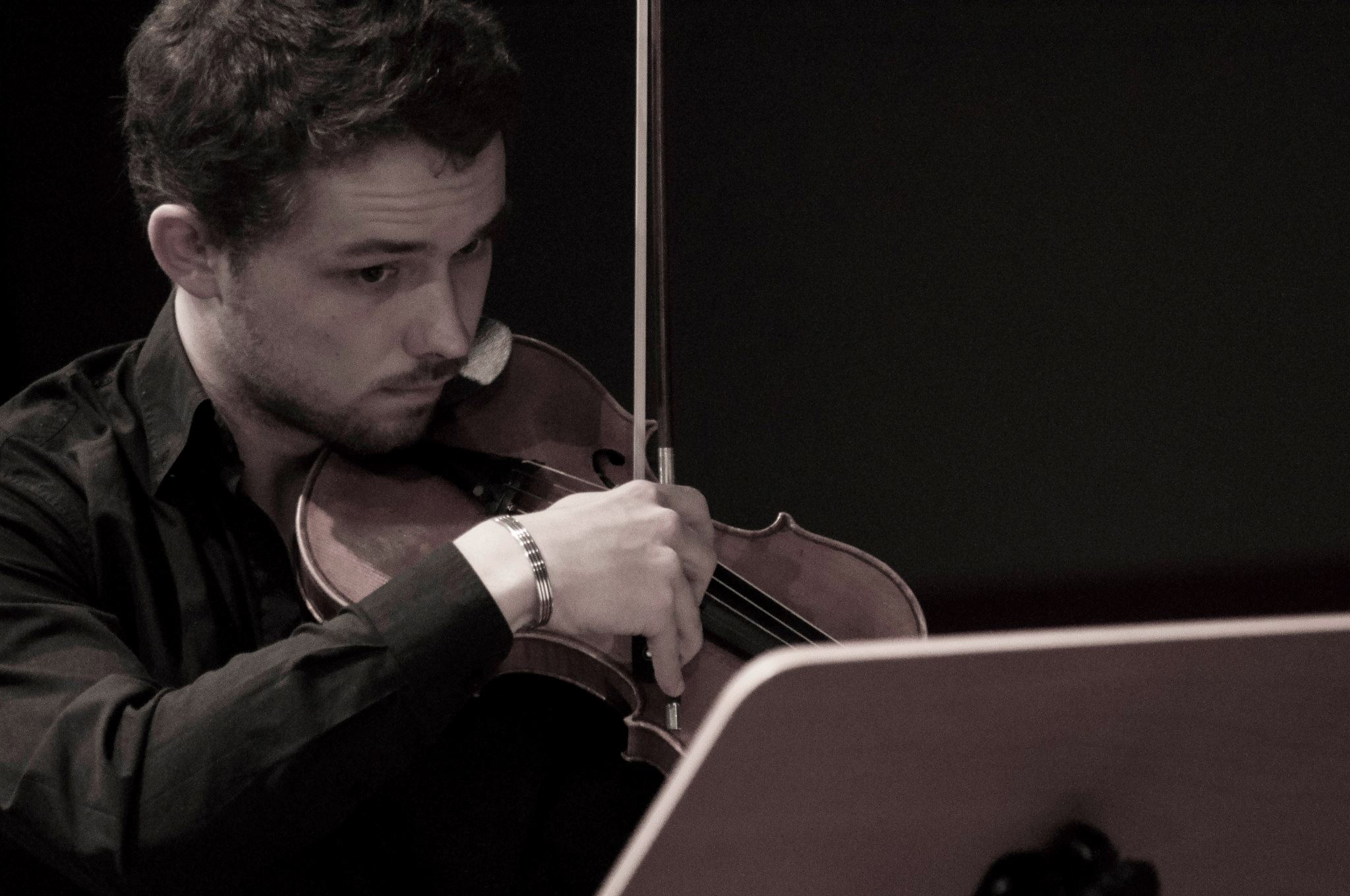 Théo Portais studied with Sylviane Pillot in Saint Nazaire, then at the Nantes Conservatory studio of Gérard Klam. His already strong interest in chamber music led him to take lessons with numerous teachers such as Alain Pallas, Jacques Delannoy and Georges Lambert in Saint-Nazaire. At the same time, he founded with three friends the "Plumpe Quartet", an original chamber music ensemble specialized in live music accompaniment of movies from the silent era. He completed his studies in Nantes with a premier prix and an Artist Diploma in both violin and chamber music.
In 2008 he meets the French violinist Philippe Graffin at the international chamber music festival "Consonances" in Saint-Nazaire. At his recommendation, he meets Yuzuko Horigome, with whom he studied for seven years at the Brussels Royal Conservatory until his graduation with a Masters of Music in 2016. He also studied harmony with Wouter Lenaerts and counterpoint and fugue with Kristin De Smedt. He earned a second Masters of Music, in music writing, in 2017.
Interested in theory of music as much as in performance practise, he studied musicology at the Sorbonne University in Paris concurrently with his studies in Brussels. Fascinated by Leoš Janáček's music, he went to study for one year in Brno (Czech Republic), the composer's hometown, to improve his understanding of his music, especially through the study of Czech language.
Throughout his studies, he took part in various masterclasses with renowned violinists and pedagogues such as Philippe Graffin, Olivier Charlier, Mimi Zweig or Véronique Bogaerts and famous ensembles such as the Talich Quartet, Shanghaï Quartet and the Fine Arts Quartet. In orchestra, he played with great conductors such as Michel Tabachnik, Sigiswald Kuijken and Arturo Tamayo. He also performed as a soloist with the ensemble PasSages in Brussels and the Meeting Potes Orchestra in Nantes conducted by his friend Mauricio Arancibia. He played concerts not only in France and Belgium, but also in Italy, Germany, Cuba and Bolivia, where he was involved in the creation of the first classical music academy in July 2017 together l'Orchestretto, an ensemble he co-founded in Lille. He was invited by Philippe Graffin to play in the chamber music festival « Consonances » in Saint-Nazaire and thus had the opportunity to play with renowned musicians: Pascal Devoyon, Claire Désert, Sylvain Blassel, Marie-Luise Neunecker and Gérard Caussé among others.
Settled in the north of France since 2016, he now teaches the violin in several music schools in Lille and chamber music at the conservatory of Cambrai.