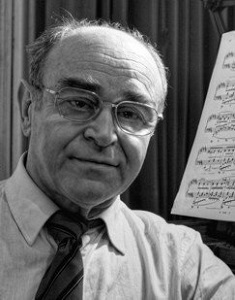 2016 celebrates the Centenary of the great Argentine composer Alberto Ginastera. Our Academy Professor Alberto Portugheis, compatriot and friend of the composer, hopes many participants in his Piano Masterclasses will wish to work on some of the many attractive works Ginastera wrote.
The distinguished pianist and pedagogue Alberto Portugheis was born in La Plata, Argentina, to parents of Russian and Rumanian descent. He studied in Buenos Aires with the celebrated Vincenzo Scaramuzza (who also taught Martha Argerich), in Geneva with Madeleine Lipatti,Louis Hiltbrand and Youra Güller and in London.
After winning first prize at the Geneva Concours de Virtuosité, Portugheis embarked upon an international career, visiting over 40 countries. He performs in recitals, chamber-music concerts and as soloist with many major orchestras, including : Royal Philharmonic, London Symphony Orchestra, London Mozart Players, Philharmonia, English Chamber Orchestra, Lausanne Chamber Orchestra, Paris and Israel Sinfoniettas, Orchestre de la Suisse Romande, Sinfonica Nacional of Argentina, Filarmonica de Buenos Aires. These take him to the most important music institutions in Europe and America. Recent Masterclasses have taken place in Athens, Nicosia, Dubrovnik, Zagreb, Moscow, Buenos Aires and in New York at the Julliard School.
Alberto Portugheis has a particularly wide repertoire with music ranging from baroque – including his own transcriptions – to contemporary. Many works have been specially written for him. His acclaimed recordings include : 4 Chopin Ballades, Alfred Nieman 2nd Sonata, Ginastera complete piano music and chamber music with piano, Khachaturian Piano Concerto with the London Symphony Orchestra, Khachaturian solo works, Rachmaninov and Shostakovitch cello and piano sonatas and a CD entirely dedicated to the piano music of Rossini. Recent engagements have included performances in Britain, Hungary, Greece, Switzerland, Cyprus, France, Serbia, Argentina, Nigeria, Canada and the USA.
Alberto Portugheis is Vice-chairman, Beethoven Piano Society of Europe – Vice-chairman, International Society for the Study of Tension in Performance – Vice –president, European Piano Teachers' Association – Chairman, Iberian and Latin American Music Society – Founder, Asociacion Latino Americana de Pianistas Pedagogos, Founder and Artistic Director of the Dorothea Law Piano Centre.