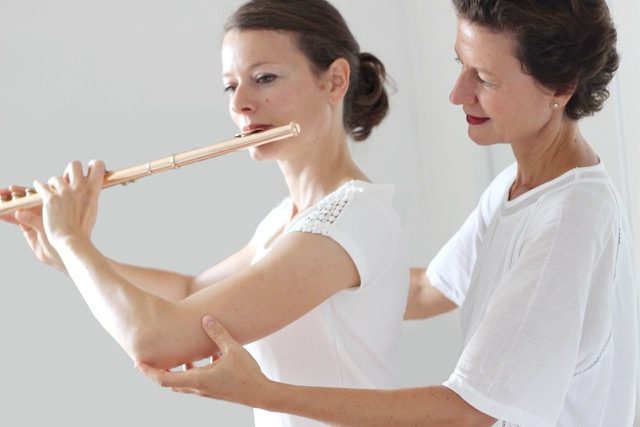 Alexandra Friess Fridrici began her music instruction learning the piano and then the guitar through a flexible hours programme in Strasbourg.
After completing a Masters degree in Law at Strasbourg University she chose to follow her passion, classical singing and would study at the Musikhochshule in Sarrebruck, Germany. During this time Alexandra became acquainted with the Alexander Technique and through this discovered the experiences of the flow and lightness of movement with ease and openness.
The incredible sensations of feeling whole and aligned with oneself, both physically and mentally! Some years later, Alexandra decided to train with Odysée Gaveau at the Alexander Technique Teaching School in Paris ( ETAP) to be able to pass on this fabulous aid to other musicians. Alexandra Friess Fridrici currently teaches singing and the Alexander Technique as well as offering health-care treatments combining contact and sound at her practice in Puteaux.
She regularly teaches as Guest Speaker on subjects pertaining to the voice at the ETAP, as well as at the Cirque du Soleil, Société Générale, Louis Vuitton and the Lush Spa.
Alexandra Friess Fridrici is a member of the board of directors of the Alexander Technique Teacher's Association (APTA).