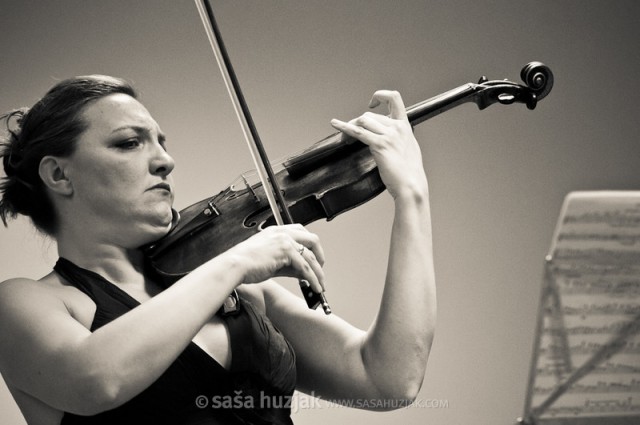 Sihana Badivuku, a distinguished Kosovar violinist, was born in Prishtina in 1967, in a musician family. She accomplished elementary and secondary musical school in Prishtina, at the class of prof. B. Dimcevski and P. Vernikov. She has studied at the Moscow State Conservatorium "P.I. TChiakowsky" where she graduated with Prof. E. Chugajeva , and completed her M. A. Degree studies in violin (1984 – 1991). In 1993/94 studied in "Hochshule fur Music" in Detmold (Germany, she got the GFF Detmold scholarship ) with Prof. Young Uck Kim. In August 1994 she attended a Masterclass course in Siena (Italy) at "Academia Chigiana" with Prof. Uto Ughi.
She participated at international competitions for violin (J.S.Bach-Leipzig, R. Lipizer Gorizia, (diploma as a semi-finalist) J. Szigeti Budapest) . She participated in several International festivals such as "Ohrid Summer Festival", Days of Macedonian Music, Contemporary Music Festival in Tirana, "Gubbio Festival" in Italy , Bach's Week.-Prishtina, International Chamber Music Festival 2000-2004 in Prishtina , Inernational Contemporary Music festival"New Scene of Prishtina,Interfest –Bitola,"Varna Music Festival"-Bulgaria,Festival"MUZINA"Slovenia etc.
She participated in the Opening Evening "Ohrid Summer Festival 1998" as a soloist with the Austrian Radio Television Philharmonic Orchestra (ORF Orchestra).
She collaborated with the following pianists: Teuta Pllana (USA), Lejla Pula (Kosova), B. Rakova (Russia), Jouni Somero (Finland), Marco Grisandi and Santi Calabro (Italy), Misbah Kaçamaku, Zana Badivuku, Lule Elezi and Valton Beqiri (Kosova), Maja Kastratovich, Maria Vrshkova and Meri Kafkalleska (Macedonia), Koji Okamoto and Noriko Kawai (Japan), Derek Han (USA),Dino Mastroyiannis(Greece), Daniela Dikova (Bulgaria).
She performed as soloist with the following conductors: Silviu Pantiru (Romania), Leclav Salacki (Poland), Bajar Berisha (Kosova), Imre Toplak (Vojvodina), Lygia O'Riordan (Ireland), Angel Shurev (Macedonia), Ermir Krantja (Albania), Doron Salomon (Israel), Tadeush Kozllowski (Poland), Aleksandar Nikollovski and Aleksandër Lekaj (Macedonia), Nikollaj Zhlicar (Slovenia), Rafaele Tiseo (Italy), Bahri Çela (Kosova), Pavle Deshpalj (Croatia), Milen Nachev (Bulgaria),Vyachislav Parosolov (Novo Sibirsk), Le Phi-Phi(Vietnam), Jetmir Barballushi(Albania).
She held concerts in Kosova, Macedonia, Albania, Bulgaria, Germany, Italy, Russia, Finland, Ireland, Spain, Slovenia and USA. Currently she is a Associated professor at the Arts Faculty in Prishtina; Concert Maestro at the Kosova Philharmony,(from 2000') as well as a violinist at the ensemble "Vivendi" and "String Trio Kosova"( from 2003'). She played with distinguished artists in chamber ensembles: P.Vernikov, D.Han, M.Barley, D.Mastroyiannis, B.Previsich, P.Meighann, J.Moore,Pierluigi Camicia etc.
In Festival "Ohrid summer"2003, S.B. and her colleagues, B.Grubi, A.Gashi, L.Dobrevska, M.Kastratovich, A.Paco, A.Prosi played in Ensemble "Musica Balkanika".
From 2000' she engaged herself to co-organizing as Artistic Director different musical events, icluding "J.S.Bach Week Festivity", International Chamber Music Festival-Kosova KamerFest 2000—2010, "International Competition of classical music/ArsKosova Music Competition for youth"(from 2003), 'Concert-promotions of Young classical music talents". (A.M.A.K., Foundation "ArsKosova"). From 2000'she is member of "Association of Albanian music and ballet artists of Macedonia", from 2003 a founder and creator of ArsKosova Music Foundation & ArsKosova music competition for Youth (EMCY membership from 2007),also member of Festival committee board of "Ohrid summer Festival" 2003-2005 and Scholarship Foundation of Albanians in Macedonia from 2004.From 2008 she is prof. in State Tetova University/Macedonia; From March 2010 she become president of ESTA branch Kosovo (ESTA-European String Teacher's association).