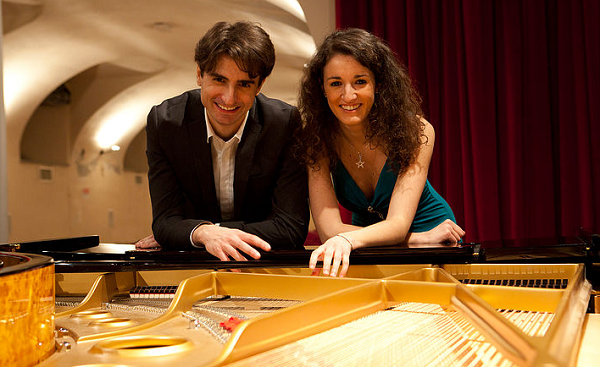 Eleonora Spina and Michele Benignetti are two compelling talented young musicians that coming from differents experiences as soloist and chamber music whose sensitive interpretation has been praised by audiences and critics alike.
Both musicians, brilliantly graduated from some of the most prestigious European Music Institution such as Hogeschool voor de kunsten (Codarts) in Rotterdam and the Ecole Normale "A. Cortot" in Paris, are prize-winners in solo competition including 2014 Yamaha Music Competition, 2007 Scriabin International Piano Competition in Paris and 2012 Carlo Vidusso International Piano Competition.
Their musical education has been marked by significant studies with renowned Professors including Enrico Pace, Chantal de Buchy, Aquiles Delle Vigne, Franco Scala, Roberto Plano, Nelson Delle Vigne –Fabbri and Walter Bozzia.
Eleonora Spina and Michele Benignetti partnership's as piano duo began on 2013 and immediately obtains positive consents.
Actives as performer in concerts venues throughout Europe, the piano duo, on June 2014, receive by acclamation the prestigious Diplôme Supérieur d'Exécution at the Ecole Normale de Musique "A. Cortot", with the mention "A l'Unanimité".
They won several prizes in important competitions for piano duo including Virtuoso Grand Prize International Music Competition in Paris, Pietro Argento International Music Competition, Best Chamber Music Performance Award at the London Piano Masters and "F. Chopin" International Piano Competition in Rome. They also have been selected to participate at the 2015 ARD International Piano Duo Competition in Munich.
Their interpretation has been also influenced by many master class that they have attended in Europe such as: Royal College of Music in London, with Stefanina Passamonte, Roustem Saitkoulov, Hiro Takenouchi, Pedro Casals, Simon Callaghan and Jan Loeffler, Conservatory "G. Cantelli" of Novara, with Professor Alberto Miodini and with Genova&Dimitrov Piano Duo at the International Academy and Festival "March Music Days" in Ruse (Bulgaria).
Invited as jury members at the last edition of Pietro Argento International Piano Competition in Italy, on July 2014 they recorded for Brillant Classic Records their first disc about the Complete Works for Two Pianos of J. Brahms.
Michele and Eleonora are currently studying at the Hochshule fur Musik of Graz (Austria) under the guide of Professor Gil Garburg.
They teach at the Conservatory of Music and Drama of Saint Quentin and at the Conservatory of Music, Dance and Drama of Soissons, in France.