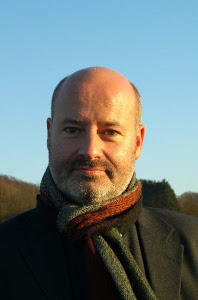 born 1961 in Frankfurt, studied school music and philosophy in Mainz, then composition with Wolfgang Rihm at the Karlsruhe Music Academy. The artist gives about 30 concerts a year. He has performed as a soloist in almost all European countries, including Paris, Rome, Madrid, Sofia, Budapest, the Mozarteum Salzburg and the Gasteig Munich. Concert tours have taken him to Argentina, Japan and the USA.
He became known for his full-length interpretations of Albéniz (entire Iberia Suite), Balakirev and his 2-day lecture recitals on Scriabin (all sonatas). Radio and
TV recordings on SDR, SWF, SWR, BR, Radio France, Radio Northern Cyprus, and the Bulgarian National Television with his own compositions and piano works of the late 19th/early 20th century
His oeuvre, which to date comprises 57 pieces, ranges from piano and chamber music to orchestral works. He won the 1st prize at the Pyromusikale Berlin 2009 with his Fireworks Overture. The CD "Katharsis", released in 1996, with three idiosyncratic and striking piano improvisations, received remarkably positive reviews, including in the "Frankfurter Rundschau", "Die Zeit", "NMZ".
The CD "barbaro cantabile", recorded in 2001 as a duo with Jérôme Bloch, is a "four-hand repertoire jewel" (Rhein-Neckar-Zeitung) of French piano music. Martin Münch, lecturer for piano at the University of Bamberg from 1993 to 2013, supervised the area of music therapy in Weinsberg from 1994 to 2016, is founder of the "Jahrhundertwende-Gesellschaft", Heidelberg, speaker for international relations of the society "piano international eV" and for many years artistic director of several international piano cycles such as the Heidelberg Piano Week, PiANORAMA Florence or the Neckar Music Festival and currently of the classical music festival "Montevideo en primavera" at the Rio de la Plata. The press writes enthusiastic reviews of Münch concerts "not a waltz, but an excess of a waltz. … Daredevil the pianist went into the stupor of this piece. Münch went to the limits of what was sonically possible, but did not lose sight of the bigger picture. One could not have imagined a more thrilling finale." (Böblinger Messenger, 26.08.2003).
Münch has lives on the Rio de la Plata since 2016.