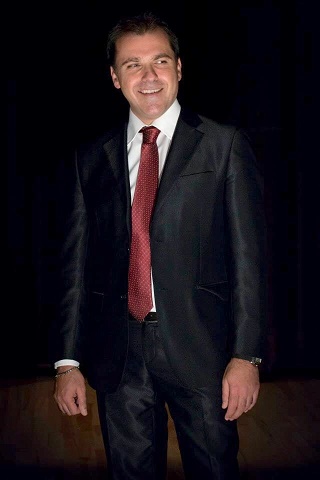 Student of V. Pellegrini, G. Francavilla, A. Delle Vigne, P. Camicia and chamber music the Trio di Trieste. He graduated in piano and vocal chamber music with highest honors respectively at the Institute "G. Donizetti" of Bergamo and the Conservatory "N. Piccinni" in Bari. He has participated in various masterclasses with marstri R . Szidon, R. Cappello, A. Lonquich, B. Wolf, P. Rattalino, L. Lortie, JC Parreira, T. Poli, A. Ciccolini, B. Canino, A. Ballista, M. Jones and K. Bogino. Already the first prize at the International Piano Competition "Sergio Fiorentino" city of Morcone he tours in the most prestigious concert halls of the world such as: Auditorium of Sant Carles – Ibiza (Spain), Wiener Saal and Saal Leopold Mozart – Salzburg (Austria), Church of St. Martin in the Field – London (England), Philharmonic Hall in Kiev (Ukraine), Theater of Fine Arts in Maracaibo (Venezuela), Carnegie Hall in New York (USA) etc … He collaborated with soloists and conductors of national and international fame such, P. Vernikov, I. Grubert, V. Mariozzi, FM Ormezowsky, P. Amoyal, M. Lomartire, L. Di Fino, G. Grassi, P. Baleff, L . Gasparini, J. Landor, P. Romano, V. Sheiko, G. Lanzetta, L. Piovano, L. Bacalov.
He has performed in festivals and important musical institutions: Foundation "G. Cantelli "Milan, Camerata Musicale Barese, Auditorium of the Bank of Italy – Rome, Castello Orsini Avezzano, Sala Baldini – Rome, Museo Revoltella Trieste, Sala" Puccini "the" G. Verdi "in Milan, Teatro Hake of Ragusa, Theatre St. Lawrence to the Columns of Milan, Auditorium" Nino Rota "of Bari.
He has performed as a soloist with the Orchestra of Ancient Greece, the London Musical Arts Orchestra, the NRCU Symphony Orchestra, New England Symphonic Ensemble, Maracaibo Symphony Orchestra, the Philharmonic Orchestra of Baden-Baden (the oldest orchestra in Europe) , the Symphony Orchestra of Bacau, the Symphony Orchestra of the State of Mexico.
He has recorded for radio and national television French and Ukrainian, and for the record company EDIPAN.
Is regularly invited to give masterclasses seminars and courses to 'International Summer Music Festival of Trani, the University European Music, Music Festival Savinese, Oriolo Music Festival, Umbria Classical Festival, Music in Villa – Turin, Professional Conservatory of Music Angel Barrios de Granada.
He is currently professor of piano at the Conservatory "G. Paisiello "Taranto and by the artistic director of the Music Festival" City of Ceramics "Grottaglie (Ta).