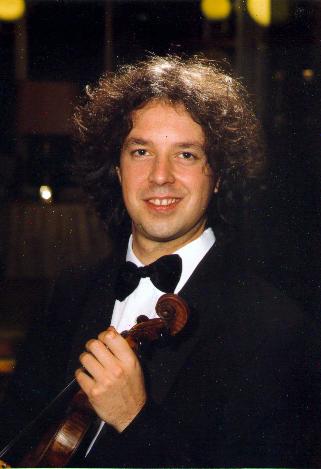 The Italian violinist Ruggero Capranico has a degree from the music academy «Giuseppe Verdi» of Turin (Italy). He attended numerous violin and chamber music courses for perfecting (in Italy and then in various countries such as England, France or the Netherlands), during which he had the chance to be taught by some of the greatest violinists and chamber musicians of the time (Tibor Varga, Chiara Banchini, Rollo Kovac, Andras Cziffra).
After having won several national and international contests ("Città di Moncalieri", "Città di Tortona", "Concours International Dasinamov", "Concours Franz Schubert"), Ruggero Capranico founded the Antarès strings Quartet in 1995 in Paris. His dedicated himself entirely to the catalogue of this formation, having a passion for it, and met the members of other quartets such as Amadeus, Alban Berg, Cleveland, Élysée, Italiano, Lindsay et Ysaÿe. In 1996, he had the immense privilege to study in Paris with Sergiu Celibidache and to contribute to the film dedicated to the life of the master: "The Garden of Sergiu Celibidache".
In 1998, he was acknowledged to attend the perfecting cycle of the Conservatoire Supérieur de Musique et de Danse of Paris, in the class of Bruno Pasquier. The same year, he won the awards of the foundation "Nadia et Lili Boulanger" and the foundation "Société Générale". Besides, he was granted the scholarship of the Conservatoire of Villecroze and three scholarships of the school Fiesole (scholarships "Paolo Barile", "Sergio Dragoni" and "Emma Contestabile"), where he attended the string quartet class of Piero Farulli. He won, the same year, the price "Musée Bonnat" of the Maurice Ravel Music Academy.
In 1999, he was allowed to the Accademia Chigiana of Sienna and received the Diploma di Merito. During three years, he had the privilege to play on a violin Andrea Guarnerius the so-called "Duca di Cremona", made in 1676. He participated in the most important quartets' festivals, such as the Luberon International String Festival, the Festival of Kyoto (Japan), the Festival-Concert au Château de Grignan, the Festival of Salinelles, etc. He produced four CDs published by Integral Classic, and was rewarded by the critique with four diapasons and the highest grade of the journal "Classica" (5/5).
He teaches chamber music at the Conservatoire Charles Munch of Paris. He also teaches violin and directs the string orchestra at the Conservatoire Georges Bizet of Paris.