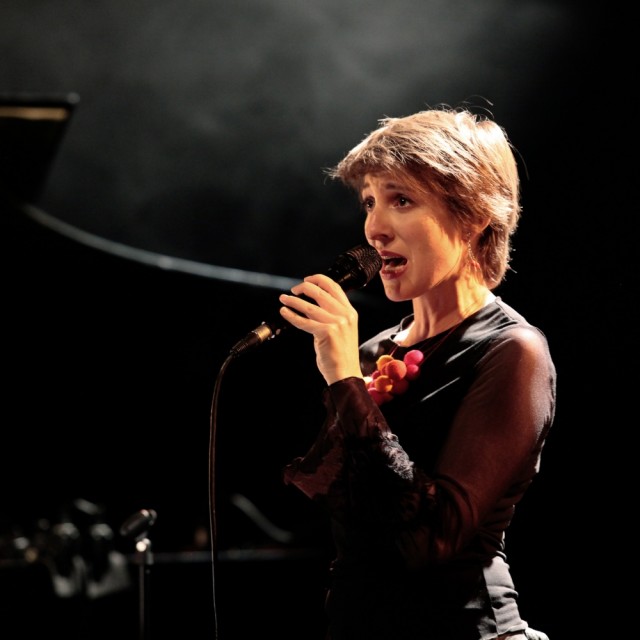 Improvisation libre à la voix, avec Claudia Solal
Ce stage s'adresse à toute personne désireuse de s'initier à l'improvisation à la voix : chanteurs, débutants ou confirmés, de tous horizons musicaux, comédiens, danseurs, instrumentistes, ayant ou non une pratique de l'improvisation. Stage limité à 18 participants.
« Pendant ces six jours, nous aborderons principalement l'improvisation libre à la voix, en privilégiant l'aspect collectif de la rencontre: approche de différentes techniques et stratégies d'improvisation, initiation à la "composition instantanée"; travail sur les couleurs et textures vocales permettant autonomie d'expression et développement d'un langage personnel, au moyen d'outils spécifiques, contraintes et de propositions de jeux de tous ordres… alternance, répétition, intention et interaction, mémoire, son et geste, rapport au risque, écoute créative, conscience et construction de la forme, expérimentation de la voix dans tous ses états, avec et sans support textuel (références possibles au jazz, à la musique contemporaine, aux chants du monde).
Les stagiaires, s'ils sont instrumentistes, pourront être amenés à improviser aussi bien à la voix qu'au moyen de leur instrument.
Je préparerai également des séances d'écoute, afin d'étayer par des exemples concrets les directions proposées au cours du stage.
Les séances pourront comporter une préparation vocale et respiratoire (exercices techniques et corporels spécifiques à la voix/énergie du souffle, posture, résonateurs), si besoin est ».
BIOGRAPHY OF CLAUDIA SOLAL
As a singer, songwriter, improviser, Claudia Solal has performed on stage for 20 years  now in France, Europe and United States, on the most prestigious venues and festivals.
Her numerous collaborations and artistic experiences played a large part in building a unique vocal language, at the crossroads of written material and improvised songs.
After her highly acclaimed first two recordings "My own Foolosophy" (quartet with Baptiste Trotignon, 1998), and "Porridge Days" (duet with Benjamin Moussay, 2005), she released "Room Service" in 2010 (ffff télérama), with Spoonbox quartet. She currently works in trio with Didier Petit and Philippe Foch (Les Voyageurs de l'Espace), with Antichamber Music trio with Katie Young and Benoît Delbecq, in Jean‐Marie Machado's Danzas orchestra, in a trio with Jean­‐Marc Foltz and Regis Huby, Equivoxe duet with Valérie Philippin, in duet with Benjamin Duboc (Le ventre vide), in duet with Sylvain Kassap.
Her third album in collaboration with Benjamin Moussay, Butter in my brain, will be released in 2017.
She's been teaching since 1998, and has run the jazz singing and improvisation class at Strasbourg's Conservatory CRR since 2005. She also gives workshops and master classes, and composes for TV and theater.