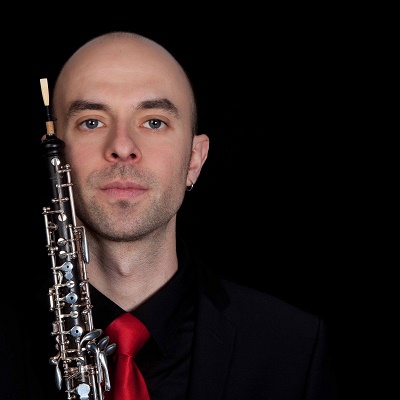 After musical studies at the Conservatory of Nantes in oboe, harmony and analysis, Benjamin Pouchard joined Boulogne-Billancourt Conservatory where he studied with Yves Poucel for the oboe and Hortense Cartier-Bresson for chamber music. He won first prizes in both disciplines in 2006. He also gets advices from musicians such as Jacques Tys for oboe and Christophe Grindel for English horn .He had since the opportunity to perform in various ensembles such as the Ensemble Orchestral of Hauts-de-Seine, the Ensemble Orchestral de La Baule or the Orchestre National des Pays de la Loire. He is regularly invited to perform within the Orchestre National de l'Opéra de Paris and the Orchestre National de France.
His interest in wind ensembles and their repertoire also leads him to pass the DADSM, diploma conducting it gets in 2008. As such, he is regularly invited to conduct wind orchestras in training courses.
Holder of the State Diploma of oboe teacher, Benjamin Pouchard currently teaches oboe at the conservatories of Garches (92) and Rosny-sous-bois (93). He is also in charge of several orchestras of students at the conservatory in Chelles (77).