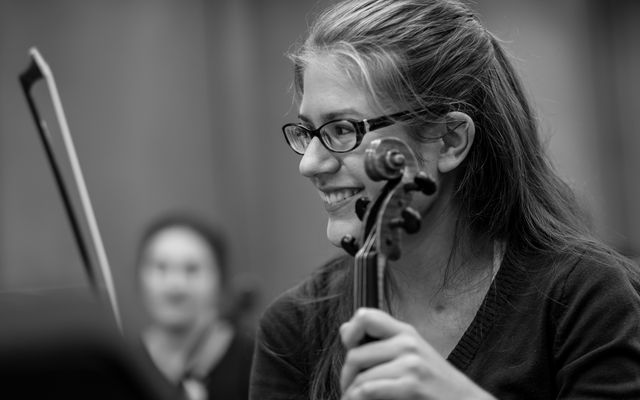 Born in a family where music has always taken an important place, Juliette Roeland started learning violin in the CRR of Paris, before pursuing her studies at the Royal Conservatory of Brussels in Belgium in Endre Kleve's class, where she has then obtained her Master of Interpretation with merit. She then continued her path on to her Master's in Pedagogy at The Royal Conservatory of Mons.
Juliette Roeland has also obtained several international violin prizes: Prix Pappaerts de la Commission de Patrimoine (Belgium, 2018), 1st prize of the competition «Citta di Filadelfia» (Italy, 2017), 3rd prize of the international competition of Svirel (Slovenia, 2017), 3rd prize of the international competition of Don Vincenzo Vitti (Italy, 2015).
During these periods, she has had the chance to study with renowned violinists such as Patrice Fontanarosa, Lorenzo Gatto, Tedi Papavrami, Mauricio Fuchs, Yuko Mori…
She plays regularly in the National Orchestra of Belgium and in other diverse chamber music ensembles (trio « Horm », with R my Bonnardel on the piano et Caroline Roeland on the cello, ensemble «Young Belgian Strings », etc.)
Open to other styles, Juliette Roeland does not hesitate to collaborate with artists of diverse horizons, going from Argentina tango to today's actual music.
Passionate about sharing her knowledge with others, she has been teaching for a few years now, from beginners to students on their way to become professional violinists. Additional to the musical and technical aspects of the learning, she integrates posture, relaxation and stage performance to her teaching, to be able to help her student progress while blooming.